YOUR LUXURY CHRISTMAS TRADITION IS HERE!
Exclusivity Meets Enchantment in this Private, Extended Photo Event.
The Signature Santa Experience is an extraordinary event that will leave your child feeling like a true VIP, where every detail has been meticulously designed to ensure that your family's experience is nothing short of exceptional.
What sets the Signature Santa Experience apart from traditional Santa visits is the level of interaction and attention to detail you'll receive. For $149.99, Santa not only listens to your child's wishes and dreams but also engages in meaningful conversations, reads a story and shares take home gifts, all while our professional photographs capture the experience with posed and candid photos. This truly unforgettable experience will create memories to last a lifetime!
Your intimate Signature Santa Experience includes:
🎁 Extended Santa Visit: Bring your entire family (adults and children alike) and friends to enjoy the magic of the season during your personal 15-minute experience with Santa.
🎁 Elevated Photo Session: Capture memories to last a lifetime with complete access to Photo Package A and additional posed and candid digital images.
🎁 Story Time with Santa: Be mesmerized as Santa lovingly narrates a classic Christmas story. Choose one of three beloved Christmas tales: The Night Before Christmas, How To Catch A Reindeer, or Santa's Story for Santa to read during this magical experience.
🎁 Holiday Take-Home Craft Kit: Discover the joy of Christmas crafting with our adorable Christmas Tree Craft Kit, a delightful activity suitable for all ages. The kit includes all the necessary supplies and easy-to-follow instructions for family-friendly holiday fun.
🎁 Majestic Holiday Frame: Elevate your holiday décor this season with our Majestic 5x7 photo frame, a festive addition that will add a touch of enchantment to your home. Just add your favorite photo from your visit with Santa and let this LED light-up frame become the center piece of your holiday traditions.
🎁 Personalized Phone Call from Santa: Explore Santa Magic from the comfort of your own home with a customized phone call from Santa powered by Portable North Pole.
🎁 MyPhoto Access: This fun, easy-to-use tool transforms your favorite photos into festive images using any device. Turn your favorite pictures into fun holiday designs, perfect for sharing on social media!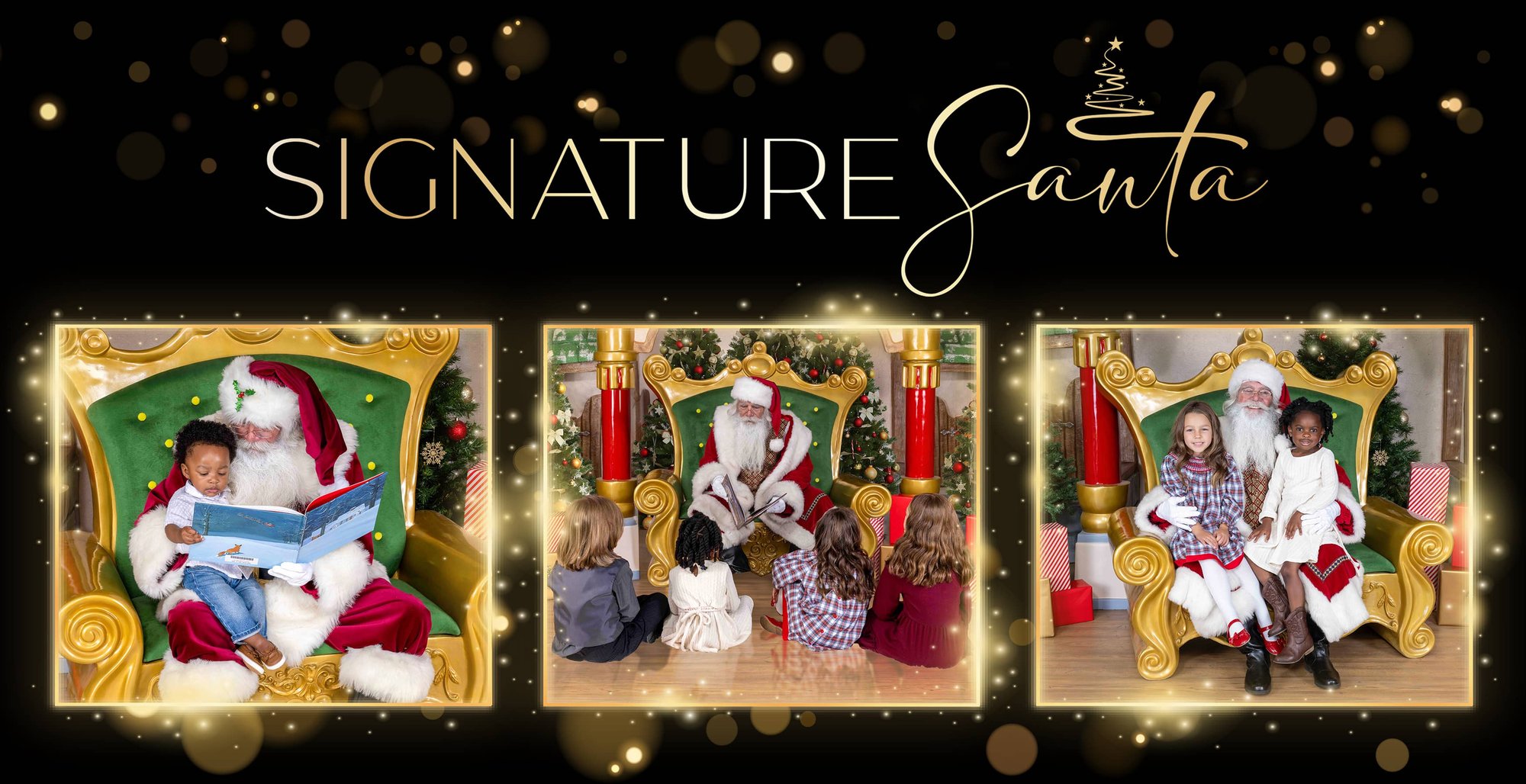 Frequently Asked Questions

Do I have to make a reservation for the extended Signature Santa Experience?
Yes, reservations are required for the 15-minute Signature Santa Experience. You can book your reservation by clicking on your location above or by visiting whereissanta.com.
What is the 15-minute Signature Santa Experience?
The elevated & extended Signature Santa Experience is a 15-minute intimate event with Santa suitable for large groups, families & friends. During this time, our talented photographers will capture posed & candid photos to capture the moment that will last a lifetime. In addition, you can choose one of three classic Christmas tales for Santa to read to your group & you will walk away with memorable photo prints, digital download access, a family-friendly take-home craft, a 5x7 picture frame & more.
Where are Signature Santa Experiences offered?
Signature Santa Experiences are offered at 8 select Simon locations across the United States. You can find Signature Santa in Florida, New York, California, Texas, Indiana and New Jersey.
How do I reschedule my extended, 15-minute Signature Santa Experience reservation?
Extended Signature Santa Experiences are non-refundable. Rescheduling is based on availability. To determine availability, please contact our Customer Support team at  help.myholidaymoments.com.
What is included in Photo Package A?
Photo Package A includes our limited edition 2023 Snow Globe postcard, 8 photo prints (2 5x7 prints, 2 4x6 prints, & 4 wallets), all digital downloads & access to our online gift shop where you can turn your photos into personalized gifts & keepsakes.
How do I access my Signature Santa Experience digital photos?
Your digital downloads will be available 24 hours after your Santa photo experience at myholidaymoments.com. Scan the QR code on the back of your photo envelope or follow the link sent via SMS (text message) to myholidaymoments.com. At myholidaymoments.com, enter your email address and the code located on your receipt or printed photo. Photos will be available for 30 days after the season ends. Please download & save your photos to remember the Santa Magic forever.
For additional information, please view our complete FAQ guide HERE.